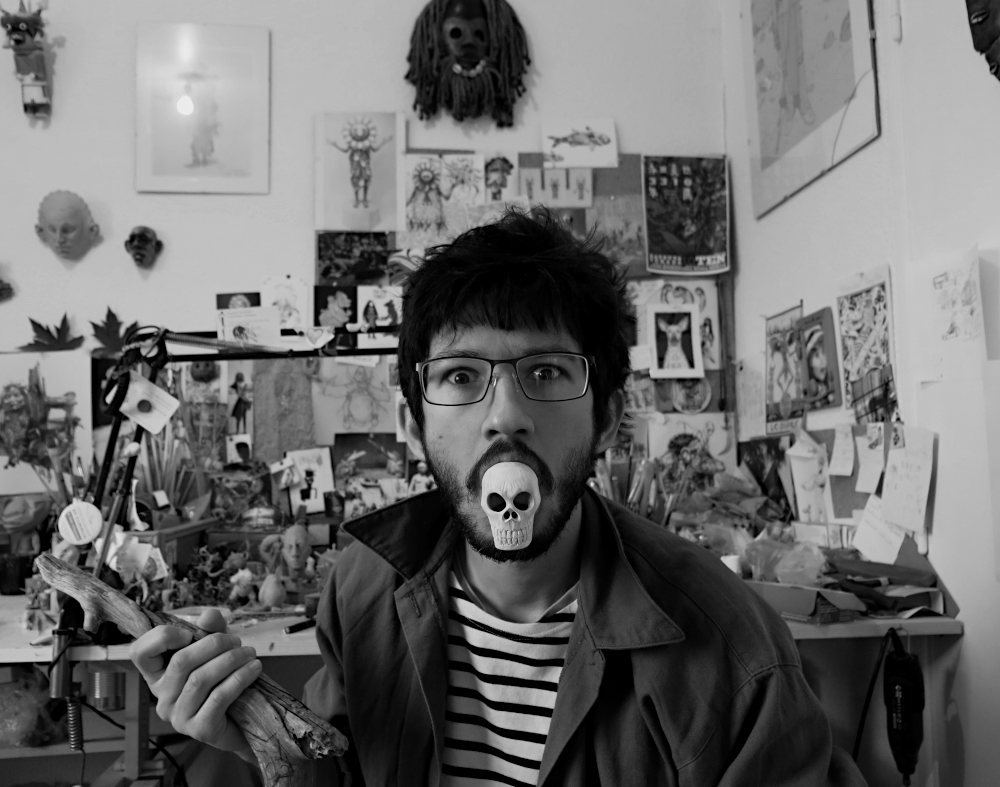 Allan-Diego Carrasco is a sculptor working in the miniature industry since 2004. His work includes both companies and private collectors as clients.
Alongside he's developping a more personnal art with media such as ceramic, wood, drawing or various material. Fascinated by ancient cultures and mythology, the pieces he creates touch the border between visible and invisible reality, sometimes esoteric their strengh comes from both delicate and raw aesthetic.
The theme of Mask gets an important place in his art. He think it as a complete part entity allowing the bearer to become another than himself and personify a mythical or archetypal being, who finally be able to complete actions out of normal human limitations.
Pre-columbian cultures and native american societies are the starting point of some artworks like the Courgeritte statuettes inspired by Hopi and Zuñi Katsinas from Arizona.
His work is a continual search, as he says he still hasn't found his own plastic form.
He was published in: Spectrum Fantastic Art, Infected by Art, ImagineFX Magazine and more press related to miniatures.
Exhibition/guest on events such as Lucca comics and games.
Exhibitions in Banon (France) « église haute » in 2019 and Forcalquier (France) at « le Garage L » in 2017 and to the visitor center in 2022.
Sculpting classes (Miniature) are taught during Figostock (Drôme, France).
Interviews :
Interview MyRankArt (2019) (French)